Investing in Darlington
There
are so many good points about Darlington and why it's such a good place to invest in.  Perhaps it's because it's been rated as one o
f the UK's top hotspots for buy-to-let investment, or perhaps because it's been voted among one of the UK's top 10 happiest places to live. 
About Darlington And Its History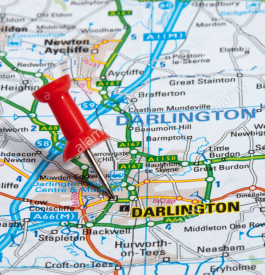 Darlington is located in County Durham 30 minutes south of Durham city centre and 1 hour 15 minutes up from Leeds. It is just off the A1(M) which connects the South to the North of England. Darlington even has one of the shortest Motorways in the UK, the A66(M), which is only 1 mile long!
Darlington during the 18th and 19th centuries was at the epicentre of industrial growth, being home to the world's first permanent steam-powered locomotive passenger railway in 1825.
This great town is a monument of history in its own right as seen through its culture and architecture. 
One Of The Happiest Places To Live 
It's true; Darlington was officially voted as the 7th Happiest Place to Live in the 2015 Government's Life Satisfaction Index. Based on housing affordability and quality of life.
In addition to the town's historical heritage, it's also just 13 minutes from a major international airport and fantastic transport links. This places Darlington in perfect proximity for commuting to Teeside, Newcastle, Yorkshire and Durham with the A1 motorway running next to the town connecting North and South of England.
Darlington offers many attractions, from its Theatres, Cinemas and Leisure Centres offering a range of activities from swimming to gyms.
Investing In Darlington
According to One & Only Pro (one of the best investment portals in the UK), Darlington is on the list of the UK's top ten places for buy-to-let investment. It ranked Darlington Of County Durham a hotspot, placing it at the top spot with the highest proportion of diamonds for properties.
A landlord's powerhouse with nearly all areas benefiting from popularity especially the West End and The Denes offering superb yields. Over the last decade, Darlington has seen a large regeneration that is still continuing to this day, among the most recent being Amazon's new fulfilment centre which will be a major job creation tool for the whole region.
The area benefits from great diversity including a variety of different age groups all helping to create a strong ongoing demand in the area.
This diversity can also be seen in the form of the various types of property on offer in Darlington, including Victorian, Edwardian and cottage properties in villages such as Hurworth and Sadberge.
Local Industry Of Darlington And Surrounding Areas
As mentioned above Darlington has an incredible infrastructure offering a vast variety of good employed jobs:
The retail sector, with many high street outlets
Amazon's new fulfilment centre
Many bars, cafes and takeaways
An industrial centre off the main town offering many job prospects
A local airport – Teeside International Airport
In addition to the above, (also benefiting from its railway links) Darlington has easy access to neighbouring towns and cities with Durham city just half-hour away plus the major towns to the East such as Middlesbrough and Stockton-on-Tees. Offering a vast amount of employment also.
House Pride Trends
As for house prices in Darlington, you can grab a quality bargain for as little as £50,000. House prices can then go upwards to £1M. The most common price range is between the £50,000 to £100,000 price point representing a 22.1% share of the total sales between February 2020 to January 2021.
Share By Price Range Sales (February 2020 – January 2021)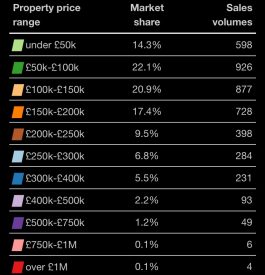 Since 2014 the average property values in most of Darlington as a whole have increased by 11.3 percent.
Rental Comparisons
Some highly sort-after areas with some impressive yields:
Starting prices at just £70,000 (2 bed) with expected rents in excess of £400 with gross rental yields of an expected 6.8 – 7%.
Prices start at just £60,000 (2 bed) with expected rents in excess of £425 with gross rental yields of an expected 8.5%.
With starting prices of around £80,000 you can grab yourself a three-bedroom house with an expected rent in excess of £450 – £475 with gross rental yields in excess of 7%.
There are many areas surrounding these three popular locations that are also sought-after where occasionally properties go for around £50,000 with rents still achieving over £380 PCM.
As with any area, there are some areas that are more desirable than others in terms of tenant profile.
We know Darlington and will hand pick your perfect investment in the best possible areas.
Sound good? It's time to invest in Darlington.