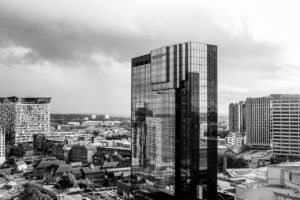 Known by many as the UK's 'second city', Birmingham is the second most populated urban centre (1.1 million) in the UK and the most populated English local government district (2.9 million), making it the heart of the Midlands.
Originally one of the booming centres of Britain during the Industrial Revolution in the 19th century, Birmingham was one of the key targets during WW2 and was decimated by the German Luftwaffe. The collapse of manufacturing following deindustrialisation forced the city to adopt a service economy, and it is now the third-largest financial centre in England.
With its central location in England and excellent connections to the rest of the country, Birmingham is a convenient location for logistics, which will only be improved with the arrival of the HS2 high-speed rail.
Birmingham is an ideal place for landlords looking to invest in property as only 26% of residents own their property, meaning there is a high demand for renting. Property Fit know the best areas of Birmingham to invest in and which areas should be avoided, and we have already sourced some excellent properties there for our clients.
For more information on how you can tap into the potential of Birmingham with smart investments, get in touch with us and find out how we can help.
Properties for sale in Birmingham
Meet Francesca – Our Birmingham Viewing Agent
My role at Property Fit is to source and view properties for clients. My background is property and design. I have been developing properties since 2008. I love the idea of turning something bad and neglected into a beautiful and usable space for people to enjoy. I have also worked as a letting agent for several years, and dealt with tenants, contractors and landlords. I love challenges, and helping people to find the perfect property for themselves or for investment.
Property Fit Birmingham FAQ's
Take a look at our FAQ's below for questions about Property Fit helping you to source, maintain and let properties in Birmingham.
Don't just take our word for it
We pride ourselves on customer service
My wife and I would like to place on record our appreciation of the great service from Property Fit, especially Kirsty. The team pay extra effort in all areas, check in advance of our special concern for a viewing property, built up good relationship with the seller for a prompt and smooth deal. You guys were very much on the case with getting back to us.
1. Professional team with valuable advice
2. Appreciation of your efficiency
3. The information provided is clear
4. Highly recommend 😊
To start with the team for my first property, I think they are a
team that can meet the needs of customers and respond quickly